Covid-19
Update 6/12/20
FINALLY, some good news to report. Now that Pierce County is at Phase 2 the clubhouse and member's range will be reopening this coming Saturday, June 13th. The clubhouse/members range opening will be limited in scope so please be aware:
No more than 5 people on member's range at any one time
No more than 5 people in the clubhouse at any one time
Please maintain physical distancing of 6 feet in either area
Face coverings when not shooting are highly recommended
Bring your own hand sanitizer
Wash hands frequently
Clean up after yourself
Avoid contact with other peoples equipment
I am hopeful as we progress to Phase 3 and 4 that we will get closer to normal operations.
Joe Moyer
Skookum Archers President
Update 4/27/2020
Today, Governor Inslee announced the reopening of state lands for recreation, hunting, fishing and golf starting on May 5th. Given the similarity of archery to these activities, Skookum Archers has decided to officially re-open our outdoor ranges on May 5th as well. However, as we are a volunteer organization, we rely on archers to use their discretion on whether they use our outdoor facilities in the meantime.
Markers have been installed for the shooting line on the flat range to indicate shooting locations that support social distancing. In addition, we have added additional signage to remind users to maintain social distancing while using our facility. As always, we encourage all users to use our outdoor spaces responsibly; stay home if you are showing any symptoms, bring hand sanitizer, maintain social distancing of at least 6 feet from other individuals and wear a face covering if you have one. Unfortunately, our clubhouse, member's range and sani-cans will remain closed. Thank you for your support and cooperation.
Joe Moyer
Skookum Archers President
Update 4/24/2020
Good Evening Everyone!
Unfortunately, Skookum Archers received notice from the Coronavirus Emergency Operations Center Compliance Response Team that our facility was reported to them as continuing operations in violation of the Governor's Stay Home - Stay Healthy Proclamation 20-25.
We are very disappointed because we believe that recreation and exercise are critical components for mental health, especially in these trying times. However, we have no choice but to comply with the Governor's order. Therefore, Skookum Archers will immediately close our entire facility, including all outdoor ranges, until further notice.
We will continue to communicate our status as this situation continues to unfold. Stay safe, wash your hands and we hope to see you back on the range soon.
Joe Moyer
Skookum Archers President
3/16/2020
As I'm sure you are all aware, COVID-19 continues to impact our lives whether we are infected or not. Clearly, this is a serious situation that requires an extraordinary response in order to not overload our already stretched thin medical capacity. Here is a graphic provided by the Governor on what is allowed and not allowed per the new Social Distancing guidelines: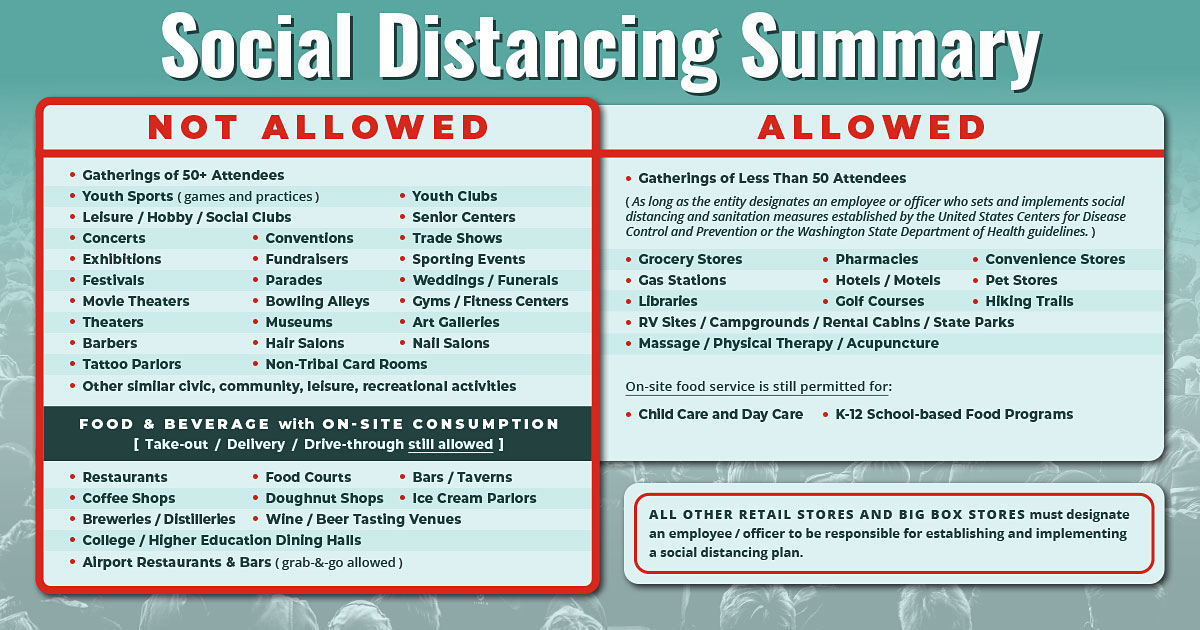 In light of these guidelines, I have decided to close the clubhouse, member's range, and flat range sani-cans until further notice. However, the flat range and walk-through courses will remain open during regular operating hours. This decision was not made lightly but in order to protect the club, our members and our community, I feel it is the right thing to do.
Discussion is ongoing with the Board as to the length of time for the closure and how it will impact our members. Stay tuned for additional communication as this situation continues to unfold.
Thank you for your understanding.
Joe Moyer
Skookum Archers President